The WEST COAST borders on the Atlantic Ocean's Coastline.  The Region that is traditionally known as the "West Coast" of South Africa, extends from Yzerfontein in the South (about 80km north of Cape Town) to Srandfontein (south of the Olifants River).
The "West Coast" is a long chain of small fishing villages and holiday towns where spring flowers carpeted the landscape and the cold Atlantic Ocean provides the local fisherman with their daily catch.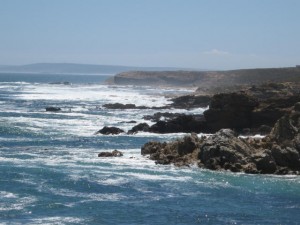 It is a region of wild beauty, salty air and a charm of a simpler bygone era.  The magic unfolds over every stretch of pristine coastline.  Living in harmony with nature is a way of life at the "West Coast".
We are featuring the towns from the Berg River to the Olifants River.  Towns included in this route are VELDDRIF, PORT OWEN, LAAIPLEK, DWARSKERSBOS, ELAND'S BAY, LAMBERT'S BAY, DORING BAY and STRANDFONTEIN.