On the road again….a long dusty road. –  70km ahead is PORT NOLLOTH  and 3km South of Port Nolloth lies Mc DOUGALL'S BAY.
We traveled on a very corrugated road from Kleinzee to Port Nolloth.  Although the locals travel these roads daily, It felt as if we were shaking to pieces!  I was relieved to reach the tarred road…
At Mc Dougall's Bay we enjoyed the white sandy beaches and realized that once again we found another West Coast  gem…
This house belongs to a local diver. A personal museum full of diving apparel and equipment.
The caravan park on the beach has plenty of hedged windbreaks to protect you from the "South Easter" .
Mc Dougall's Bay  is a typical holiday destination. Holiday accommodation is freely available and all necessary  amenities are only 3km away in Port Nolloth.
On the WALL OF EXPRESSIONS (in Mc Dougall's Bay) thousands of mosaic pieces form these stunning artworks.
After walking around admiring "The Wall" with it's millions of mosaic-tile pieces, we went to  Port Nolloth.
This is what welcome you to this unbelievable coastal town.  It was very clean and tidy!!
Port Nolloth  is well developed with lots of accommodation, restaurants and tourist attractions.
We saw different styles of architectures with regards to the various churches.
The museum building dates back to the era of Tin Roofs and Brooke Lace. There are a few other buildings in town of the same design. I loved all the different structures and could  relive the past…how awesome it must have been!
We walked along the beach and enjoyed all these surprises!
The boardwalk continues for miles and makes the beach easy accessible.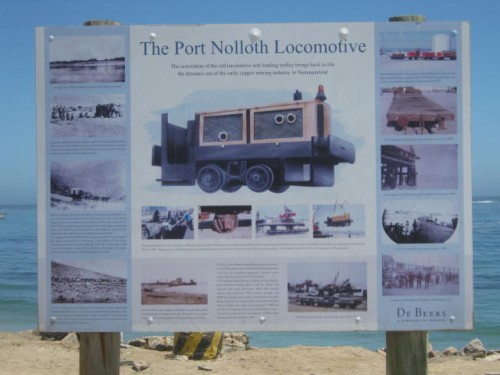 The Port Nolloth Locomotive – a small engine with a big "to do" list.
At the harbour we saw a few fishing trawlers and diamond dredgers.  It was an absolute pleasure and a dream come true to experience the daily activities of the locals in this coastal town.
Around the corner from the harbour is the Biodiversity Centre.  Also an information office for any "info" needed.
  We enjoyed a few nights with stunning sunsets in the caravan park of Mc Dougall's Bay.
Our next stop is Alexander Bay…