The next morning we left HONDEKLIP BAY to continue our journey.  We are on our way to the Orange River Mouth in ALEXANDER BAY.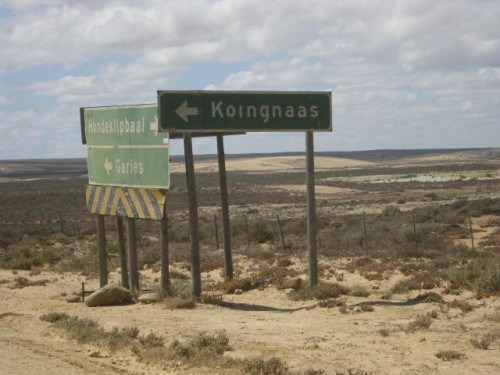 We followed the dirt road to KOINGNAAS where we had to fill up our petrol supplies.  Our reserve tanks were all empty.

From here we traveled on a perfect tare road, through a mining area, to KLEINZEE.
"NOUP" was previously a diamond divers village.  Now the accommodation in this village is available to travelers and holidaymakers.
For the traveler who wants to be outdoors and closer to nature, there is a campsite opposite the village accommodation called "Koingnaas Campsite".
This Backpackers Lodge is ready for action!
At  KLEINZEE we entered the town through a security boom gate after producing our ID documents.
Even though KLEINZEE was a prosperous mining village, it is now a ghost town, due to the decreased mining activities.
Any information needed about the town, can be obtained at museums' office.
The shops that are still open in this shopping center, are stocked with the bare minimum.
At the museum we saw these informative signboards about the Nama People and Diamonds.
On the outskirts of KLEINZEE , on the road to PORT NOLLOTH, this mine represented past mining activities.